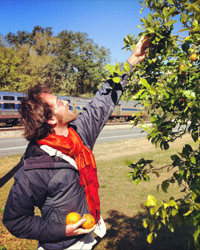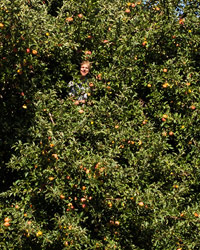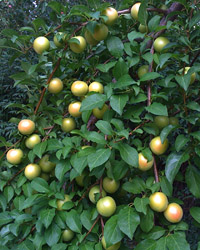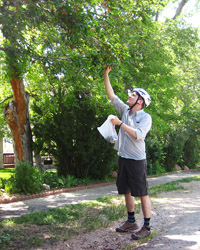 Falling Fruit is not associated with Fallen Fruit. Fallen Fruit can be found at fallenfruit.org.
Donate We are a volunteer-run 501(c)(3) nonprofit and rely on donations to operate. If you are willing and able, please consider making a financial contribution. Donations within the United States are tax deductible.
Write Falling Fruit is built by and for foragers – we want it to be the best tool available to the contemporary forager. Write us at [email protected], we would love to hear from you!
Translate Interested in volunteering as a translator? Email us and we'll invite you to join us on Locale, where our translations are managed.
About the project
Falling Fruit is a celebration of the overlooked culinary bounty of our city streets. By quantifying this resource on an interactive map, we hope to facilitate intimate connections between people, food, and the natural organisms growing in our neighborhoods. Not just a free lunch! Foraging in the 21st century is an opportunity for urban exploration, to fight the scourge of stained sidewalks, and to reconnect with the botanical origins of food.
Our edible map is not the first of its kind, but it aspires to be the world's most comprehensive. While our users contribute locations of their own, we comb the internet for pre-existing knowledge, seeking to unite the efforts of foragers, foresters, and freegans everywhere. The imported datasets range from small neighborhood foraging maps to vast professionally-compiled tree inventories. This so far amounts to 2,658 different types of edibles (most, but not all, plant species) distributed over 1,431,909 locations. Beyond the cultivated and commonplace to the exotic flavors of foreign plants and long-forgotten native plants, foraging in your neighborhood is a journey through time and across cultures.
Join us in celebrating hyper-local food! The map is open for anyone to edit, the database can be downloaded with just one click, and the code is open-source. You are likewise encouraged to share the bounty with your fellow humans. Our sharing page lists hundreds of local organizations - planting public orchards and food forests, picking otherwise-wasted fruits and vegetables from city trees and farmers' fields, and sharing with neighbors and the needy.
Board of directors
Caleb Phillips
[email protected]
Boulder, Colorado, USA
Caleb is a featherless bipedal humanoid passionate about food justice and finding creative ways to use technology to address social issues. When he's not biking around gawking at trees, he balances his efforts between his day job as a data scientist at the National Renewable Energy Laboratory in Golden, Colorado, an adjunct professor of computer science at the University of Colorado, and as a worker bee for a number of nonprofit organizations (Food Rescue Alliance in Denver and Boulder Food Rescue in Boulder, Colorado). Besides all that work stuff, he likes to climb rocks, run trails, ride bikes, and generally be outdoors as much as possible.
Ethan Welty
[email protected]
Boulder, Colorado, USA
From apple ciders and fruit beers to jams and Rumtopf, Ethan looks to his database of neighborhood trees (and his cider press) for culinary inspiration. While at home in Boulder, he geeks out over maps, data, and time-lapse of retreating glaciers for his PhD at the University of Colorado, but he often goes into orbit to walk, talk, eat, and photograph his way across continents.
Jeff Wanner
[email protected]
Snowmass, Colorado, USA
Since harvesting black and blueberries with his family as a child and, more recently, noticing the wealth of public fruit trees throughout Colorado, Jeff has developed a deep appreciation for the abundance of fruit growing in our cities. His first mission for Falling Fruit was to comb Boulder and Salt Lake City, paper maps in-hand, to record fruiting trees. When not working to improve building energy efficiency, he is usually helping out in the community or moving quickly over mountains by foot, ski, or bicycle.
Board of advisors
Translators
Amit Baum (עמית באום) – עִברִית
Ana Carolina de Lima – Português
Daniela Marini – Español
Ethan Welty – Français, Español
Heimen Stoffels – Nederlands
Jadalnia Warszawa – Polski
Karolina Hansen - Polski
Kira Dell – Português, Español
Laura Clabé – Français
Liana Welty – Español
Maria Noel Silvera – Español
Maria Rosa Puig – Español
Michela Pasquali – Italiano
Monica Breval Listán – Español
Mylène Jacquemart – Deutsch, Italiano
Parmenter Welty – Español
Raven Lyn – Português
Salomé Martin – Français
Sifis Diamantidis - Ελληνικά
Thomaz Brandão Teixeira – Português
Tim Conze – Svenska
Timna Raz – עִברִית

Closing remarks
Falling Fruit is a 501(c)(3) (tax-exempt) public charity based in Boulder, Colorado. As a result, donations within the United States are tax deductible. You may review our letter of exemption from the IRS and verify our standing with IRS Publication 78 or the Colorado Secretary of State. Also available are our by-laws and board meeting minutes.
Falling Fruit
PO Box 284, Boulder, CO, 80306, USA
EIN: 46-5363428
Harvesting food in an urban setting comes with certain practical and moral considerations. For an introduction to the ethics of urban foraging, we recommend the excellent summary on our sibling site - Portland, Oregon's Urban Edibles.
Information on Falling Fruit may be wrong or out of date. For example, many of the foraging maps migrated to Falling Fruit were hosted as public Google Maps on which markers were often moved accidentally, and municipal tree inventories are updated only (if ever) as trees are visited for maintenance. Be prepared to encounter inaccuracies in the field, and please edit the map as needed based on your discoveries. Ultimately, it is your responsibility to determine the identity, edibility, and location of a plant, and the responsibility of all to improve the quality of the map.